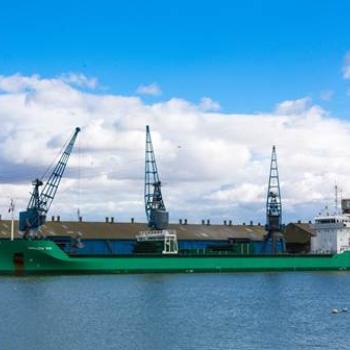 Arklow Bay delivers largest shipment of stone in Ipswich.
31th of March 2015
Associated British Ports' Port of Ipswich has welcomed the largest shipment of stone in its history.The MV Arklow Bay arrived in Ipswich, from Belfast, to deliver 8229 tonnes of stone for Lafarge Tarmac, close to a thousand tonnes more than the previous record of 7371 tonnes.Materials for the construction industry represented around 30% of the Ports total tonnage in 2014.Ipswich welcomes a vast range of construction materials into the port every year, including bricks, stone, sand, gravel and cement which are vital raw materials for the region's construction industry.
Alastair MacFarlane, ABP Port Manager East Anglia said; "The Port of Ipswich is a key gateway to markets for the region's construction industry."
The vessel owned by Arklow Shipping delivered the cargo to Lafarge Tarmac's state of the art asphalt plant at the Ports Cliff Quay''.
Nigel Stephenson, Production Manager Lafarge Tarmac said; ""Receiving aggregates on a vessel of this size is a great opportunity for Lafarge Tarmac to contribute to a reduction in our carbon footprint and to help us provide the best possible solutions in a growing construction market."
Together with our customers, ABP Ipswich supports 1,812 jobs locally and contributes £122 million to the regional economy.