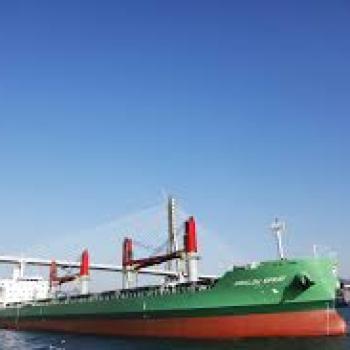 Arklow Spray makes Liverpool first UK port of call on maiden voyage
30th of March 2014
We were recently delighted to welcome Arklow Shipping's latest 'S' class fleet addition, the Arklow Spray, when she chose the Port of Liverpool as her first UK call on her maiden voyage.
Arriving at Liverpool from Bilbao on the 30th March, the 34,000t Irish-flagged bulk carrier vessel discharged 11,000t of steel coil from the Far East at our new automated steel terminal.
Such an occasion merits a celebration, and so we invited Sheila Tyrell, chairman at Arklow Shipping, along with Arklow Shipping director Adrian Teggin to the Port of Liverpool for an event to mark the occasion. As well as raising a glass to the Arklow Spray, we presented a plaque to the Captain Marcin Jablonski , which will stay with the vessel for the rest of her seagoing lifetime.
The steel on board the Arklow Spray was discharged to our new automated steel handling facility – the most technologically advanced of its kind in Europe. Our steel terminal features a fully automated warehouse and interactive customer web portal, as well as real time stock availability, precision coil selection and a vehicle booking system. All this adds up to giving customers the best value for their money by minimising paperwork, handling, and haulier turn-around time. We know that all these small gains make for a big difference when it comes to our customers' bottom lines.
Its advantageous location in terms of its proximity to UK manufacturing means that customers enjoy substantial cost benefits, which in turn make Liverpool a logical port of call for break-bulk steel vessels. It's one reason why we've seen double digit growth on all steel products in the last twelve months. At Liverpool we are able to handle all steel products from coil to rebar, bulk or containerised. Our steel imports come from all over the world but mainly from the Far East, South America and Europe.
Arklow Shipping is a very important strategic partner for Peel Ports with 169 of its vessels entering the River Mersey in 2013 alone. We were delighted to be able to welcome their team to the Port of Liverpool and show them how important their partnership is to our business.
After the Arklow Spray was discharged she continued her maiden itinerary with her next cargo.